Welcome to the Hotel Rutherbach!
Good location
The Hotel is located between Essen-Werden and Essen-Kettwig in the green Ruhr Valley. Popular cycling and hinking trails, such as the Ruhrtalradweg, pass the house. The city center can be reached after a short car or S-Bahn ride. The connection to Messe Duesseldorf and Messe Essen is also easy and convenient. A ride here takes about 20 minutes. An ideal location for business and fair visitors as well as cyclists and city tourists.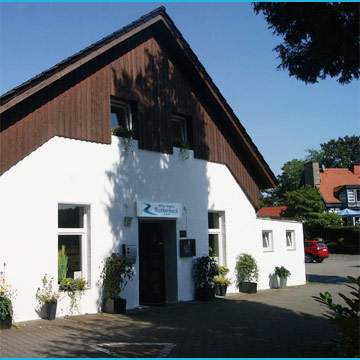 Modern and cozy
Our hotel was completely renovated during 2014. The rooms are modern and comfortably furnished and after everything your heart disires. The new bathrooms are each equipped with shower and toilet. Parking spaces in sufficient numbers are located directly in front of the house and are availabel to our guest free of charge. Dogs are allowed in the house and in front oft he house there is a small beer garden for house guests.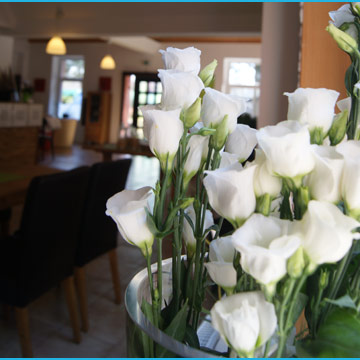 Adress and opening hours
HOTEL RUTHERBACH
Ruhrtalstraße 215 - 217 - D-45219 Essen
Open every day from 7 am to 11 am and from 3 pm to 7 pm – no rest day!
Check-out: every day from 3 pm to 7 pm, please specify check-in time at time of booking.
Room reservation directly under:
+49 (0)201 40 88 39 18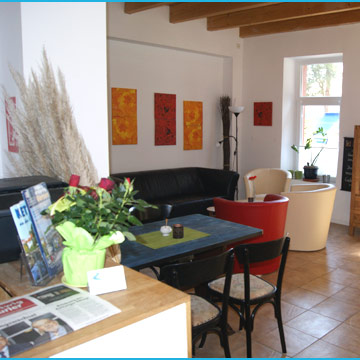 Our rooms at a glance
We have three apartments, one Studio, four double rooms, two comfortable double rooms with two rooms and one single room.
Our partners
Our partners on site as well as in the surrounding area, invite you to use their offer.
Room rates (For fairs different prices apply.)
The prices depend on the room selection and the number of guests and range from 75,- to 140,- € / night including breakfast.
Aktuelles
Cum sociis natoque penatibus et magnis dis parturient montes, nascetur ridiculus mus.
Room reservation directly under +49 (0)201 40 88 39 18
Hotel Rutherbach - D-45219 Essen - Ruhrtalstraße 215 - 217